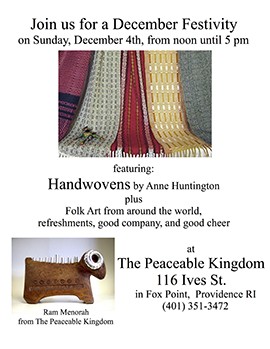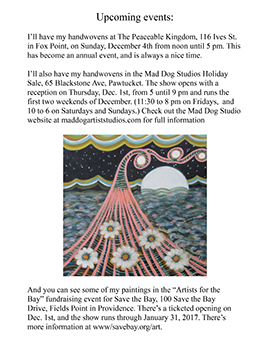 UPCOMING EVENTS:
I'll have my handwovens at The Peaceable Kingdom, 116 Ives St. in Fox Point, on Sunday, December 4th from noon until 5 pm. This has become an annual event, and is always a nice time.
I'll also have my handwovens in the Mad Dog Studios Holiday Sale, 65 Blackstone Ave, Pawtucket. The show opens with a reception on Thursday, Dec. 1st, from 5 until 9 pm and runs the first two weekends of December. (11:30 to 8 pm on Fridays, and 10 to 6 on Saturdays and Sundays.) Check out the Mad Dog Studio website at www.maddogartiststudios.com for full information.
And you can see some of my paintings in the "Artists for the Bay" fundraising event for Save the Bay, 100 Save the Bay Drive, Fields Point in Providence. There's a ticketed opening on Dec. 1st, and the show runs through January 31, 2017. There's more information at www.savebay.org/art.
∗
"Let's Go" (June 23, 2013) was our final show at Po Gallery. After 27 years, it seemed like the right time to close. Steve and I had a great time. We worked with many wonderful artists, enjoyed the company of countless passers-by and regular gallery visitors, and developed precious friendships. We had adventures, went through changes, made things happen, stayed grass roots. My thanks to everyone who played a role.
I still weave, paint, and exhibit my work. Show announcements, available pieces and contact information are included on this site, and I'll post on Facebook as well. If you'd like to be added to my mailing list send a note to pogalleryri2@gmail.com.
Enjoy.