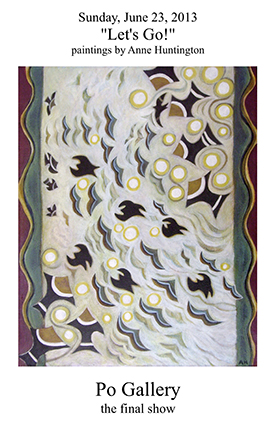 "Let's Go" (June 23, 2013) was our final show at Po Gallery. After 27 years, it seemed like the right time to close. Steve and I had a great time. We worked with many wonderful artists, enjoyed the company of countless passers-by and regular gallery visitors, and developed precious friendships. We had adventures, went through changes, made things happen, stayed grass roots. My thanks to everyone who played a role.
I still weave, paint, and exhibit my work. Show announcements, available pieces, and contact information are included on this site, and I'll post on Facebook as well.If you'd like to be added to my mailing list send a note to pogalleryri2@gmail.com.
Enjoy.
Po Gallery was founded in 1986 by Steve Palumbo and Anne Huntington.
Our History:
When Steve and I first opened the shop on Wickenden St. we just called it Po. It was a small storefront and it was centered on craftwork, singular items, made by people in town who were pursuing their creative passions in a variety of forms. Starting out with just my handwovens and work by a dozen or so other craftsmen, it wasn't long before artists started coming by to show us samples. We soon had work by over 50 individuals: glass makers, woodworkers, ceramicists, quilters, weavers, metal smiths and jewelry makers. We made space for the occasional painter, printmaker or photographer as well, but because of our size there was no possibility of having anything like a one person show. Word spread, and we became known as Po Gallery, though we avoided using the term ourselves, knowing we'd need a much larger space to present the kind of shows that would justify the idea. So in the beginning we were a simple shop for some very nice handmade things.
The opportunity for that larger space presented itself in September 1988. As part of Providence's annual Waterfront Festival, we were invited by Davol Square Marketplace, a small "upscale" mall in a very nicely renovated old factory building, to set up a weekend exhibit in a large space recently vacated by one of their major tenants. While speaking with artists for the past year and a half, we'd met many who, while supporting themselves making smaller items, were also pursuing what they considered their more personal work which was often much larger in scale. We contacted a number of them, telling them we finally had that large space and invited them to be part of a group exhibit. About 40 responded. The show was impressive, (sculpture, furniture, paintings, tapestries...) and we were invited to stay until a new tenant was found. That never happened. As the mall lost more tenants, management continued to support us and we were given the keys to more and more rooms. In the Fall of 1989 we filled an entire 2nd floor wing, and a year later, some 28 spaces on three floors. We used some of the spaces to present our own exhibits (now as Po Gallery), and we invited other galleries, artists and guest curators to set up and manage some the of spaces themselves. Anyone with an interesting idea was welcomed to run it by us, and in the end we organized some 60 exhibits and events involving about 300 RI artists and craftsmen. We called this project the Anchor Project.
Our presence at Davol Square served management's interests as well as ours. The exhibits kept the place looking lively, first for the sake of the remaining tenants, and later, as Davol's plans changed, it was to help attract a buyer for the building which happened in late 1991. We were at that point graciously given another of the company's unrented spaces just over the bridge at Corliss Landing, with a large room for craftwork, a small office, and two rooms for exhibits. We stayed there for 18 months until that building, too, was sold.
While at Corliss Landing, we were approached by a representative of the city's revitalization through art program and were asked to think about moving to the downtown area. We pitched ourselves to another failing retail entity, the historic Arcade Building on Westminster St. We leased one large space for the gallery and continued with the project, filling an additional 6 unrented spaces on the 2nd floor. We stayed for a year and a half until, once again, there was a change in ownership and agenda.
Having been given little notice to vacate, we moved the gallery a few blocks away to a building on Union St. that was hoping to attract artists' studios. There we had limited public access, but we maintained our visibility by doing window displays and putting on shows at the Providence Public Library while we sought a better location.
Within the year we moved the gallery to the Westminster Square building at 10 Dorrance St. For the first 15 years we had a large 2nd floor gallery where we presented numerous solo and two person shows, including retrospectives, installations and exhibits of large scale work.
Many artists were energized by the challenge to fill our 130 running feet of wall space, and almost all who showed told us they had never seen so much of their own work displayed together.
In July 2011, we moved downstairs to a ground level storefront on the Westminster St. side of the building. That was our last space. Small and intimate, with as much room devoted to fine craft as to artworks, it reminded me of our earliest years on Wickenden St. We stayed there for two years, finally closing the gallery in June, 2013.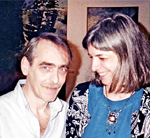 Press
In the Galleries. A talented trio blurs artistic lines;
memorial exhibit of works by Po Gallery founder.
Providence Journal, Nov 18, 2010